Wer Dead Man's Eyes bereits einmal live erlebt hat weiß, wie sich ihre dynamischen Arrangements innerhalb weniger Sekunden von jazzig-leichten Tasten-Rhythmen zu
von drei Gitarren angetriebenen, mantrischen Jams verwandeln können.
Ohne sich in exstatischen Improvisationen zu verirren, leitet der mehrstimme Gesang den Hörer durch die vielschichtigen Stücke. Energiegeladen und dennoch atmosphärisch präsentiert sich die Band auf der Bühne.
Diese teilte sich die Gruppe bereits mit international bekannten Größen wie Tame Impala, Band of Skulls, The Datsuns, Black Mountain und vielen mehr.
Nachdem sich DEAD MAN'S EYES über zwei Jahre in ihrem Proberaum eingeschlossen und ledglich von Kaffee und ihren eigenen Haaren ernährten haben, treten sie diesen Winter zurück ans Tageslicht. In ihren Händen tragen sie die Songs der "Words of Prey" - ihrem neuen Album.
Press
"Trotz in alle Richtungen denkender Spielfreude bleibt "Words Of Prey" ein in sich geschlossenes Werk, in dem jedes Stück Psych, Garage und Country seinen Platz hat."

"Das Debütalbum von Dead Man's Eyes ist ein düsterer, faszinierender Psychedelic-Brocken direkt aus der Wüste."

"Hier wird zwar durchaus Genre-Konventionen gehuldigt, aber zum Teil in ganz erlesener Raffinesse, mit ungewöhnlichen Metren, mit fragilen Arrangements, ausgefuchsten Gitarren-Ideen und einem feinen Humor [...]."

"[...] äußerst fein und von einer präzisen, fast distanzierten Weichheit ist der Sound, den die Band erzeugt. DME bedienen sich an sowohl aktuellem wie "originalem" Psychedelic Rock, an Blues- und einer Prise Hardrock und gewinnen durch Filterung durch die eigene, zurückgelehnte, der Melancholie nicht abgeneigte Perspektive, einen gehörigen Vorsprung vor jeder unreflektierten Kopistenkapelle. [...] DEAD MAN'S EYES tun sich durch intelligenten, eigenständigen, seelenvollen, vor allem im Instrumentalen überzeugenden (Psychedelic) Rock hervor, der mit Bedacht genossen werden sollte."

"Mit dem Debüt "Words Of Prey" zeigt sich das Quintett von seiner gefühlvollen Indie-Psych-Western-Folk-Seite. [...] Sie sind (musikalisch) ziemlich gewachsen und der Heavy-Anteil musste ein wenig für die Cowboy-Atmosphäre weichen. Das ist das perfekte Timing für ein Lebenszeichen der Band, denn "Words Of Prey" gibt jedem, der sich derzeit in einem Musik-Loch befindet, genau was gefehlt hat."

"Germany's Dead Man's Eyes do something highly enjoyable with rock music. On one hand they seem to be inspired by the English indie rock scene but on the other hand they apparently have a massive background in psychedelic rock. The result is a nine track album loaded with neat, immersive and hip shaking rock tunes that bring everything between The Beatles, Jefferson Airplane, White Stripes, Ween and Lemonheads to mind.Highlighting in opener 'Radiant Smiles', the gloomy blueser 'Be Good' and 'Two Dozen Eyes' this album is an absolute must-have for old school rockers and psych-fans."

"Dead Man's Eyes sound like someone opened a portal to the sixties but forgot to close it so the modern world and sixties garage-chic intermixed and your new favorite psychedelic garage band was born. You can dance to it, you can smoke some hash to it, but you will probably do both at the same time after this record is through with you. Just some really good swinging psychedelic sounds for your hairy hippie ears people!"

"Wer hier nicht ins Staunen gerät, muss schon alles gehört haben."

"[...]Dead Man's Eyes do not slope off into a wandering osmosis, rather base the out-put on driving rock tones, which rattle around the room in triumphant procession. The spice to the sound is the intonations of psychedelia, which enables the band to add stretches and dimensions to the tracks, without ever becoming lost inside a maze of confusion."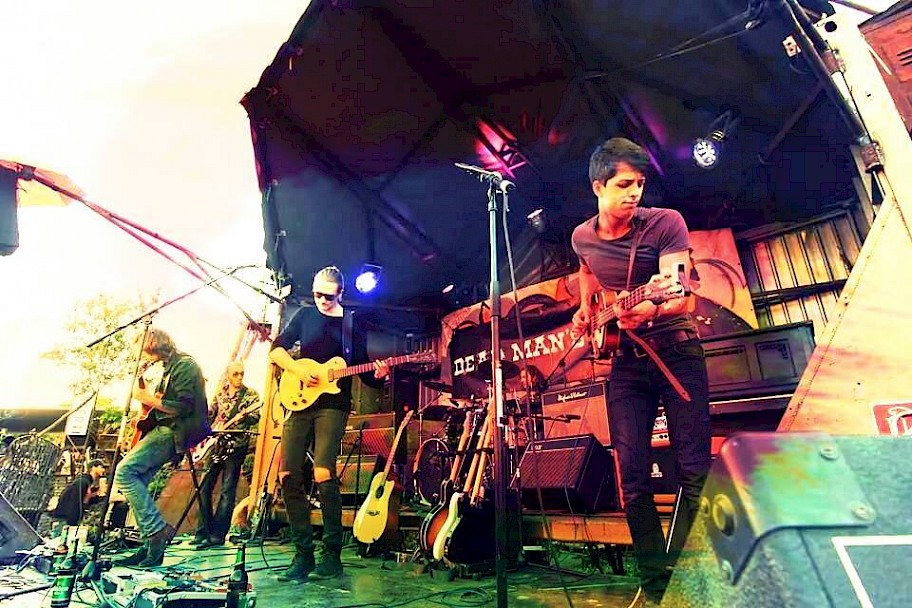 07. 03. 20
Purple Dayz Festival / Oldenburg (

de

) w/

Bushfire, NAP uvm.

get your tickets here

14. 03. 20
Jazzkeller / Krefeld (

de

)